THE HUMANITIES@GBC
While the VHC is new, the committment of GBC's students, faculty, and staff is long-standing. Below are some of the myriad humanities activities being undertaken at GBC.
Argentum to be Distributed
Argentum 2017 will be distributed at the Spring Student Art Show reception, Thursday, May 9 from 4 p.m. to 6 p.m in the Leonard Student Center Art Gallery. The Art Show is open from May 1-12 and includes work selected for publication in Argentum. To view a PDF version of Argentum, click here!
Feeling Overwhelmed by funding cuts in the Arts and Humanities?
Please join concerned Nevada citizens in creating art postcards to show our local and national representatives how much Nevadans value the arts and their arts organizations.
Monday, 3 April 2017, 5-7 pm at Duncan Little Creek Gallery. All ages welcome. Snacks and beverages will be available.
For more details, visit
www.facebook.com/RuralNAC/
Black & White Movie Night Celebrates Veterans
Join the VHC for a free showing of the movie "The Best Years of Our Lives" on Thursday, 6 April 2017 at the GBC Theatre.
This 1946 classic follows the story of three veterans returning from World War II and their efforts to re-integrate. The all-star cast includes Frederic March, Dana Andrews, Myrna Loy, Virginia Mayo, Teresa Wright, and Harold Russell. Russel, who lost both hands in service, became the only actor to ever win two Academy Awards for the same role based on his performance.
Preceding the movie will be a brief panel discussion with GBC students and veterans Mark Koppe, Nick Beitia, and Jacob Park.
The panel discussion starts at 5:30 pm, with the movie starting at 6:00 pm
Call for Artists and Writers!
2017 Argentum GBC's art and literary magazine, Argentum, encourages students, faculty, staff, and community members to submit drawings, paintings, creative writing, poetry, and more! Submissions accepted through March 10, 2017. See website for details.
GBC Theatre Production of "ON THE RAZZLE"
Don't miss the GBC theatre production of Tom Stoppard's "On the Razzle", a bawdy comedy about love and the grocery trade. March 14-18 at 7:30 p.m. and Matinee March 18 at 2:00 p.m.. Advance tickets available at the GBC Controller's office. Admission is $10 per person.
Community Invited to Zika Virus Panel
The community is invited to a Zika Virus Panel Discussion 7 p.m. February 13. Guest speakers include James M. Wilson, M.D., Director of Nevada Center for Infectious Disease Forecasting.
Learn more about prevention, symptoms, transmission and complications of the Zika Virus by attending an expert panel discussion brought to the community by Great Basin College, B(S)3N Science club, and Nevada INBRE.
Where:
Elko, Great Basin College, GTA 130
Battle Mountain, GBC Comp Lab
Ely, GBC 112
Pahrump, GBC PVC 119
Winnemucca, GBC 110
For more information, contact David.Freistroffer@gbcnv.edu. Click here to see the event flyer.
12th Annual GBC Film Fest Begins Feb. 9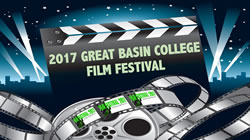 Great Basin College's 12th Annual Film Festival is back beginning Thursday Feb. 9 through Friday, Feb. 17. This year the festival will feature four carefully selected independent films never before shown in Elko and a special screening of the 2017 Oscar Nominated Short Films.
The independent films which all begin at 6 p.m. will be shown at the GBC Theater. Appetizers are available prior to each movie beginning at 5:30 p.m. Student and senior citizen tickets cost $6.50 and general public tickets cost $7. Tickets can be purchased at the door. A short film will be shown prior to each movie.
The 2017 Oscar Nominated Shorts are slated for Friday, Feb. 17. Doors at The Western Folklife Center will open at 5:30 p.m. with the films beginning at 6 p.m.
Thursday, Feb. 9 "Moonlight" -- on every critics Top 10 list, this movie chronicles the life of a young black man from childhood to adulthood as he struggles to find his place in the world while growing up in a rough neighborhood of Miami. CULINARY SPONSOR: Ogi Deli.
Friday, Feb. 10 "The Dark Horse" -- a troubled New Zealand chess champion finds purpose by teaching underprivileged children about the rules of chess and life. CULINARY SPONSOR: Spoon Me.
Saturday, Feb. 11 "The Brand New Testament" -- Did you know that God is alive and lives in Brussels with his daughter? CULINARY SPONSOR: Pizza Barn.
Friday, Feb. 17 "Oscar-Nominated Shorts" (Western Folklife Center) CULINARY SPONSOR: Machi's Saloon. A no host bar will be available. Tickets are $7 and are available now at the Western Folklife Center gift shop, and at the door on Feb. 17.
Saturday, Feb. 18 "The Ashes of Brush Flats" -- Two brothers and their struggles with loss, love and revenge. A modern Western that is a roller coaster ride through Reno, Nevada, shedding light on the moral code that makes us all human.
For more information check out the GBC Arts and Cultural Enrichment (ACE) committee page.
…a global humanities center developed by great basin college because 'humanities matter'