THE HUMANITIES@GBC
While the VHC is new, the committment of GBC's students, faculty, and staff is long-standing. Below are some of the myriad humanities activities being undertaken at GBC.
GBC Theatre Presents White Christmas
The Great Basin College Theatre is pleased to present White Christmas, a timeless tale of joy and goodwill. Shows will run 7:30 p.m. Dec. 13- 17 at the GBC Theatre.
Reserve your seats now by purchasing advance tickets at Berg Hall on the Elko GBC campus. Tickets cost $10. The performance is a collaborative production of Elko Overland Stage Theatre Company and the Great Basin College Theatre Program.
For more information on this and other opportunities with Great Basin College Theatre, contact John Patrick Rice at 775-753-2240 or e-mail john.rice@gbcnv.edu.
GBC's Argentum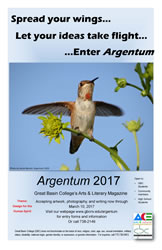 Great Basin College's art and literary magazine devoted to highlighting the excellent artistic expression of its students, faculty and staff.
Community members are also encouraged to submit work. High school students 18 and under need a parent or guardian signature on the form. The submission deadline for the 2017 Argentum is March 10, 2017.
Work selected for Argentum is featured during the Great Basin College Student Art Show. See highlights of the 2015 art show here!
2016 Fall Student/Faculty Art Show
Hello everyone!
The Student and Faculty Art show is this week in the Leonard Center for Student life through Friday December 9!
The reception is Thursday December 8 from 4-6 pm.
Students can either pick up their art immediatley following the reception or friday from noon - 2pm.
2017 GBC Film Festival Oscar Nominated Short Films
Join Great Basin College for the 2017 GBC Film Festival!
Featured for the second year in a row, is a limited-seating screening of the 2017 Oscar nominated Short Films. The event will take place at the Western Folklife Center on February 17, beginning at 6 PM. Admission is just $7 and tickets are available at the WFC. Seating is limited to 100 guests. All films are unrated and 18+ age is recommended.
Relax in Style will provide audio and visual equipment. Free appetizers from Machi's Saloon & Grill and a no host bar will also be available.
The Great Basin College Film Festival is celebrating its 12th year!
Nevada Humanities Brings Pulitzer Prize Winner to GBC
GBC welcomes T.J. Stiles on Saturday, November 19
As part of the centennial celebrations of the Pulitzer Prizes, Nevada Humanities will be hosting a Pop-Up Salon at Great Basin College with Pulitzer Prize-winning biographer T.J. Stiles.
T.J. Stiles is the author of Custer's Trials: A Life on the Frontier of a New America, winner of the 2016 Pulitzer Prize for History, and finalist for the Pulitzer Prize for Biography. He was also the recipient of the 2010 Pulitzer Prize for Biography for The First Tycoon: The Epic Life of Cornelius Vanderbilt.
The Pop-Up Salon will be on Saturday, November 19, starting at 6 pm in the Solarium of the Leonard Student Center at Great Basin College. The event is free to the public and refreshments will be served.
Johnny B. Piano Man @ GBC Nov. 3
Musician Johnny B. Piano Man will perform "Rhythm of the North: A Fast-Paced Multimedia Musical" Nov. 3 at 7:30 p.m. in the GBC Theatre
Tickets: $15 General Admission; $12 Students and Senior Citizens. Advance tickets available at controller's office in Berg Hall.
Johnny B. began playing the piano in 1957. He attended the Berklee College of Music and later went on to receive his Masters of Educational Media and Technology from Boston University in 1979.
Johnny B. is well known for blending together boogie-woogie, melodic jazz, and classical influenced ballads.
In the '90s, he was the cohost, performer, and music director for Tom Bodett's End of the Road radio show which was aired on 64 public radio stations.
His "Rhythm of the North" program received two ovations from his audience in Dalles, OR. for the Mid-Columbia Community Concert Association in Oct. 2014.
Johnny B. was awarded the Lifetime Achievement in the Arts award in 2015, for his outstanding accomplishments and passionate advocacy for the arts and artists, as wells as Career Opportunity Grant awarded by the Alaska State Council on the Arts, which allowed Johnny to attend the Arts Northwest Showcase in Boise, ID.

"I want each listener to join me on a musical journey that is playful and accomplished, intimate and engaging," said Johnny B. "I want my compositions and my performance to exceed their expectations."
This event is made possible by the Western States Arts Federation, the National Endowment for the Arts, the Red Lion Hotel & Casino and the GBC ACE committee.
For more information, contact Angie de Braga at 775-753-2231.
Shoshone Communities Language Teacher Workshop
The Great Basin Indian Archives invites language teachers and interested others in Shoshoni language revitalization to this two-day workshop on 18-19 November 2016 at Great Basin College.
The event will discuss resources, lesson planning and strategies, practice demonstrations, and input from community Elders.
For more information, contact Brian Mason at 775-318-0350 or Kristi Begay at 775-397-6547.
Bachelor of Arts in Social Science- Our Newest Degree
The VHC welcomes GBC's newest program, the Bachelor of Arts in Social Science!
Bachelor of Arts in Social Science students focus on the core social science disciplines of anthropology, history, political science, and psychology. Courses in research methods, writing, ethics, and special topic integrative seminars broaden students' knowledge base while honing communication and critical thinking skills. Optional internships and the required capstone course also provide opportunities to develop skills, make connections, and apply newly acquired knowledge to professional projects. Details of the program can be viewed here.
Constitution Day Presentation
5:30 p.m. Wednesday, September 14
Join GBC and community guests as we observe Constitution Day with a special presentation on the 2nd Amendment Wednesday, September 14 at 5:30 p.m.
Family Court Master Andrew Mierins and Chief of Police Ben Reed will provide their perspectives on the 2nd Amendment. A pre-recorded interview with Gun Historian Jeff Williams will also be shown.
The live presentation will be held in the Greenhaw Technical Arts building, room 130. The presentation will run until 6:45 p.m.
Interactive Video viewing will be available at the following GBC branch locations: Battle Mountain room 3; Ely room 112; Pahrump room 115; and Winnemucca room 123.
Vistas & Viewpoints Featured at the GBC Gallery
Artists Anne Hoff and Bobbie Ann Howell are featured in Vistas & Viewpoints presented by GBC.
The exhibition features stone lithography, a mixed media Installation, cut paper drawing, sculpture, and photography. The Great Basin College Gallery is located on the Elko campus at 1500 College Parkway, in the Leonard Center for Student Life.
Exhibition Run: August 22 until November 4, 2016
Exhibition Location: The Leonard Center for Student Life on Great Basin College's Elko Campus.
Gallery Hours: Gallery is open from 8 am until 5 pm daily Monday through Friday.
Tickets: Admission is FREE and the gallery is open to the public!
Artist Reception: Friday, November 4, 5-7 pm, Art Gallery in the Leonard Center for Student Life - GBC Elko Campus 1500 College Parkway.
Art Workshop: Explorations in Positive/Negative Design – Saturday, November 5, 10 am to 5 pm – Cost $185 Supplies Included. Sign up - GBC Continuing Education at www.campusce.net/gbcnv
More Information: 775-738-8493
This is just one of several cultural events sponsored by the GBC Arts and Cultural Enrichment Committee.
See the poster by clicking here!
Gavorsky to Serve on Nevada Humanities Board
Great Basin College History Instructor Scott Gavorsky was recently elected to serve on the Nevada Humanities Board.Nevada Humanities is one of 56 state and territorial humanities councils affiliated with the National Endowment for the Humanities.
"I am definitely interested in developing the digital humanities aspects of the organization. Nevada is incredibly rich in both physical archives, and increasingly, digital archives. The question is how to share them so more people gain access. That is a project I am willing to work on."
…a global humanities center developed by great basin college because 'humanities matter'